24. November 2022
location extension
In 2021 we were able to acquire the adjoining commercial space at Buchenhainweg 7 along with halls, so that our hall area has increased to approx. 8000 square meters and the entire commercial area has increased to over 5 hectares. The wall production and our office complex are now located there.
---
11 February 2020
New Video
A new video about us on youtube ...
---
08 February 2016
STZ-Article
New article in the Newspaper Südthüringer Zeitung!
---
17 January 2011
Sauna in Laatzen

New pictures online!
---
23 November 2010

Sauna in Laatzen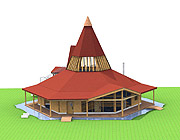 We are bulding a new Sauna in "aqua Latzium" in Germany!
---
11 October 2010

Sebalex GmbH on "interbad" in Stuttgart


13. - 16. October | stand E15 | Hall 8.
---
1 September 2010
New home page online!
We are pleased to be able to present you our new home page and hope will enjoy reading about all we have to offer you.

Our 5 main sections relating to log houses, kelo saunas, commercial projects, contract joinery and own production include a lot of reference projects and answer many of your questions regarding your building project.